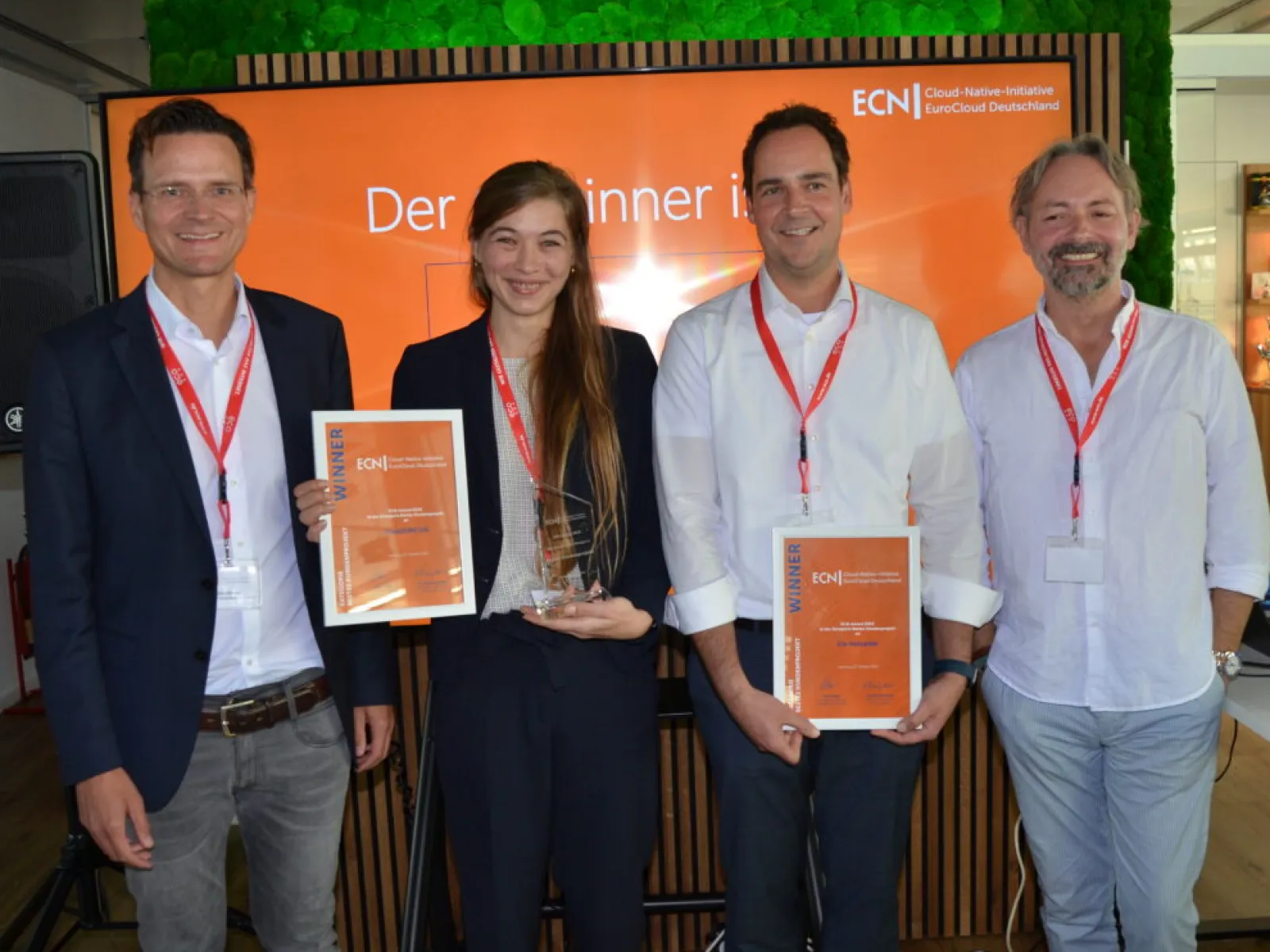 The EuroCloud Germany Cloud Native Initiative held its second Euro Cloud Native Summit at Deepshore GmbH in Hamburg, Germany. It featured participant speed dating, insights into the 2022 ISG Pulse Check, pitches in five ECN Award categories, and a cocktail show by Görkem Harp // 4FLAIR. The 'Best Customer Project (cloud native + cloud native)' award was presented to CO-VERSATILE and cloudSME.
The ECN Award patrons evaluated all submissions beforehand. Five awards were presented in categories: Female Empowerment, Sustainability, Best Client Project, Best Cooperation Project, and Member of the Year. CO-VERSATILE and cloudSME were nominated for the 'Best Client project' award and presented their joint project at the 2nd ECN Summit, winning the category over two other nominees. 
After each of the three nominees presented their projects in the category, the audience voted for their favourite. 
CO-VERSATILE and cloudSME:
To achieve the goal of a resilient, adaptive and flexible manufacturing sector in Europe, CO-VERSATILE developed four cloud-based services and reproducible simulation models for manufacturing and supply chains that represent the production of ventilators, masks, and disinfectant spray systems, in future emergencies.
After the development, CO-VERSATILE faced the challenge of finding a suitable cloud platform to publish and deploy its services securely and cost-efficiently. The technical nature of the CO-VERSATILE services, such as the integration of MICADO (for scalable virtual machines and containers at runtime), demanded a highly efficient platform.  
emGORA workspace from cloudSME is a B2B digital ecosystem for businesses, tech providers and experts aiming to democratise access to tools, consulting and training from European tech specialists and providers. The multi-cloud computing capabilities of emGORA workspace based on open-source tools such as Keycloak and Nexus, as well as proprietary software like clesgo's front end, makes it well-suited for CO-VERSATILE.
Contact details:
Lakshmy Arvind, CO-VERSATILE Communication Associate
Email: lakshmy.arvind@eitmanufacturing.eu
Phone: +49 15140765810
Access the 'Digital Technopole'  https://dtp.co-versatile.eu/
More information about the 'Digital Technopole'  https://co-versatile.eu/our-promise/digital-technopole-rapid-response